---
Der Editor ist eines der wichtigsten Bestandteile der Power-Dreams Community.

Deshalb ist es sehr wichtig das ihr euch damit auskennt, mit diesem Editor könnt ihr nicht nur Forum Einträge schreiben, den Editor bekommt ihr zB auch wann ihr News verfasst, oder einen Bericht verfasst, sogar bei Links & Downloads bekommt ihr diesen Editor und in Power Pics & Case Gallery auch. Also wie ihr seht ist dieser extrem wichtig.



Nun aber zum Editor, so sieht dieser aus: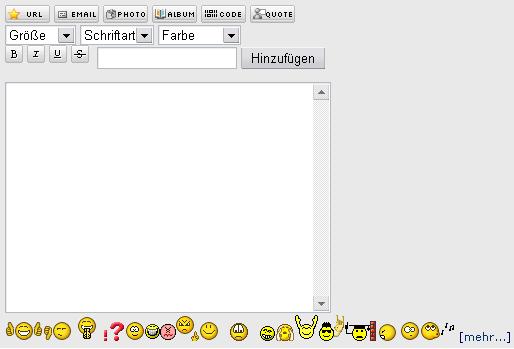 Erklärung der einzelnen Symbole:
Symbol

Erklärung

Code

Damit könnt ihr einen Link hinzufügen

[url]

Damit könnt ihr ein Bild einfügen.

[img]

Hiermit könnt ihr den Text KURSIV schreiben.

[i]

Hiermit wird der Text Durchstrichen.

[d]

Damit könnt ihr eine E-Mail Adresse hinzufügen.

[email]

Damit könnt ihr einen Text FETT schreiben.

[b]

Hiermit köntn ihr den Text Unterstreichen.

[u]

Hiermit könnt ihr Power-Pics in euren Text einfügen

Das ist die Formatierungsvorlage für Hinweise:


Das ist ein Test

-

Text für

die

CODE

-

Formatierung

[code]

Das ist die Formatierungsvorlage für Zitate:
Quote:

Das ist ein Test-Text für die Zitat-Formatierung

[ quote ]
(ohne Abstand)

Um eure Texte zu formatieren müsst ihr euren Text in das leere Feld neben den Fett usw Icons hineinschreiben und dann die Icon anklicken. Dort könnt ihr auch eure Schriftart, Größe und die Farbe der Schrift festlegen. Wann ihr den Text dann formatiert habt klickt einfach auf den Hinzufügen Button, der Text wird anschließen automatisch an das Ende eures Textes im Editor hinzugefügt.



Weitere Funktionen:

Weitere Funktionen des Editors ergeben sich dann Anhand der einzelnen Bereiche. zB im News Bereich könnt ihr Auswählen zu welcher Kategorie die News passt, diese Zusatzfunktionen gibt es in jedem Bereich. Wie ihr am Screenshot auch sehen könnt könnt ihr Smiley hinzufügen, einfach auf den passenden Smiley klicken bzw wann ihr mehr Smiley haben wollt dann klickt einfach mehr.
The comments are owned by the author. We aren't responsible for their content.